Welcome fellow Pixelites!
This blog is dedicated to providing free graphics for the Blogdrive community. Yay!
I understand that by using these graphics, I am agreeing to Pushing Pixel's terms of use:
do *not* direct-link
do *not* alter graphics without consent
do *not* redistribute under any circumstance [such as email graphic sharing programs]
for personal use only
right-click graphic >>save to hard drive>> upload to your image host
[see photobucket.com free image hosting]
BREAKING ANY OF PART OF THE TERMS OF USE IS STRICTLY PROHIBITED AND WILL RESULT IN IP BANNING.





What is *'direct-linking' or 'hot-linking' and why it makes Mr. Flibble very cross

*courtesy of phenomenalwomen.com


Holiday reminder

mr. flibble ate the calander =\








---
Push's internet hotspot:

Link us!


We no longer accept personalized blinkie requests at this time. Thankyou for your interest.
If you have found this site
at all helpful to you, and you would like to return the favor in a monitary way, click below. Every little bit is greatly appreciated and goes a long way to keeping our subscription, and this blog alive!
About the artist:
[Blogdrive profile] "Push" is a struggling college student living in the south florida area. She is currently enrolled in Digital Multimedia Production program and looks forward to working in the Computer Animated Film industry after completing her degree. Hobbies include surfing the web, writing and of course, pushing pixels.



About the side-kick: "Mr. Flibble" is a pixilated penguin living in the imagination of a struggling college student living in south florida. He is Push's taskmaster who helps her manage her time and resources more efficiently. Mr. Flibble is derived from one of Push's favorit brit comedies, "Red Dwarf", specifically the episode 'Quarantine'.
---
most important advice to share:


Everyone has the capacity for evil.




This blog runs on Domo-kun power




micro managed by kodoma






and your humble host: Push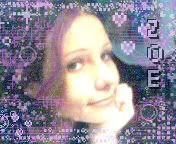 Thanks for stopping by.

Data: who links here?
Friday, March 18, 2005
Play with your toys: photo shop tools & effects
With any good paintshop program and a little experimentation, you can go from 'meh' to 'cool!' in two seconds flat.
Here is a little cluster of grapes we made.
We started by making selections inside each shape, then flood-filled it with different shades of a teal color for the grapes, and a well-shaded blue gradient for the leaves.
Grapes being flood filled with color.
Finished grapes: flat, boring, bland
In a matter of moments and the click of a few buttons, a multitude of various effects are achieved by using the same image.
Life is a bowl of cherries when you're having fun!
Go open up your paint shop program and see what you can create. =)
Posted at 05:59 pm



Thursday, March 17, 2005
Some quick freebies while the Holiday is still kickin!
Erin the Shamrock Fairy


Everyone have a safe and happy St. Patrick's Day!
Posted at 07:07 pm



Wednesday, March 16, 2005
more recolors= better than reality
Olivia de Havalland recolored project.
| | |
| --- | --- |
| Original image : | Recolored: Blown up to show the details. Crisp! Amazing! You can even see the stitching on her satiny gown and the individual jewels of her head piece. |
| | |
Image Copyright: © John Springer

| | |
| --- | --- |
| Date Photographed: | ca. 1930s |


You can do amazing things in paintshop.

Tomorrow is St. Patrick's Day! Everyone remember to celebrate with a bit o' green. Look in the menu bar for some holiday graphics for sprucing up your blog with. :)

Posted at 06:48 pm



Tuesday, March 15, 2005
While I am a huge fan of black and white photography, sometimes a recolor job really makes them pop. Being an even bigger fan of the twilight era of Hollywood Starlets, I wanted to pay tribute to the classic gorgeousness of the actresses as well as the photographers who really capture the heart and soul of what, in my eyes, a true Hollywood Starlet should be.
Recoloring is lots of fun, and easy to do.

Here is a sample of Lillian Gish:
| | |
| --- | --- |
| Before | After |
| | |
Young Lillian Gish, ca. 1920

American actress Lillian Diana Gish, originally Lillian de Guiche, was born in 1896 and starred in Birth of a Nation (1915), "The Night of the Hunter" (1955) and "Romeo and Juliet" (1965). Ca. 1920.




Image Copyright: © Hulton-

| | |
| --- | --- |
| Date Photographed: | ca. 1920 |

Deutsch Collection/CORBIS






How do I know her hair was that color? Well, I don't, but because there is a luminescent quality about it, chances are it was a fair shade of brownish/blondish.

How do I know her eyes were green? I don't know that either. I decided what color I wanted them to be, and voila. Same goes for her lovely and highly detailed dress and the darkness of her lips. That's the joy of recoloring. If you don't like something, change it.


You can recolor your own pictures. Not in black and white? No problem. All photoshop programs have a 'gray scale' option. Simply switch the image to grey scale, bump up the contrast a hair if need be, and go nuts!



Push's tips for recoloring black and white pictures:

Your picture should be of fairly good quality. The resolution shouldn't be low, a.k.a. your picture looking blurry or scratchy, unless that's the 'look' you're going for.

Keep the opacity of your digital paint brush very low. An opacity of 30'ish is good to start with.

Skin tones are never pure hue. If you use an eyedropper tool and take a sample of flesh tone from any photograph, you'll see it is more sort of greyish than a true peach or brown. True fleshtones are not vibrant or bright.

Make your own mini pallet of colors by opening a new image 100 x 100 pixels. Pick out your color swatches, set your brush to a square shape and 20 in size. Now put each new square of color on your pallet. When you want to change color but keep the same hue/shade, it's right there. Just use your eyedropper tool to pick the color from your pallet and you're ready to keep painting.

Fleshtones when working with recoloring aren't all the same. Pick a base, a shade slightly lighter for the highlights and a shade slightly darker for the contrast.

When it comes to hair, use your free-hand selection tool and make a selection of the hair first. In Jasc paintshop 8, go to Adjust>>hue and saturation>>hue/saturation/lightness. Lightness should stay at 0. Saturation should be lower for mild to moderate effect of color, or bumped to high for something wild and Andy Warholish. Working in this way preserves the texture of the hair. If you were to use a paintbrush, it would cover up the contrast and loosing that fine quaility that hair has.

If your edges look jagged in places, use your smudge tool, opacity set to 30ish or less, hardness set to 0 and soften the edges or use to blend colors to a finer grade.

Save your work early and often. Keep the original image so you can look back and compare, or to start from scratch if you don't like the way your work is coming out.

Please remember to always credit the original source of the image. If you don't know, find out.
When you're happy with your work, save it. Try out different effects on it and see what you can come up with. Even just messing with the hue/saturation levels will garner two completely different looks.

low saturation
master color: purple
high saturation


master color: purple
We hope you have fun with this mini lesson. The main thing is have fun with it. Everyone is capable of good art, you just have to try. =)




Posted at 03:21 pm