Welcome fellow Pixelites!
This blog is dedicated to providing free graphics for the Blogdrive community. Yay!
I understand that by using these graphics, I am agreeing to Pushing Pixel's terms of use:
do *not* direct-link
do *not* alter graphics without consent
do *not* redistribute under any circumstance [such as email graphic sharing programs]
for personal use only
right-click graphic >>save to hard drive>> upload to your image host
[see photobucket.com free image hosting]
BREAKING ANY OF PART OF THE TERMS OF USE IS STRICTLY PROHIBITED AND WILL RESULT IN IP BANNING.





What is *'direct-linking' or 'hot-linking' and why it makes Mr. Flibble very cross

*courtesy of phenomenalwomen.com


Holiday reminder

mr. flibble ate the calander =\








---
Push's internet hotspot:

Link us!


We no longer accept personalized blinkie requests at this time. Thankyou for your interest.
If you have found this site
at all helpful to you, and you would like to return the favor in a monitary way, click below. Every little bit is greatly appreciated and goes a long way to keeping our subscription, and this blog alive!
About the artist:
[Blogdrive profile] "Push" is a struggling college student living in the south florida area. She is currently enrolled in Digital Multimedia Production program and looks forward to working in the Computer Animated Film industry after completing her degree. Hobbies include surfing the web, writing and of course, pushing pixels.



About the side-kick: "Mr. Flibble" is a pixilated penguin living in the imagination of a struggling college student living in south florida. He is Push's taskmaster who helps her manage her time and resources more efficiently. Mr. Flibble is derived from one of Push's favorit brit comedies, "Red Dwarf", specifically the episode 'Quarantine'.
---
most important advice to share:


Everyone has the capacity for evil.




This blog runs on Domo-kun power




micro managed by kodoma






and your humble host: Push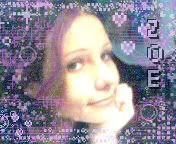 Thanks for stopping by.

Data: who links here?
Monday, October 18, 2004
I'm exploring the wonderful world of making opaque glass jars, in pixel form, of course.
Can't have a neat-o jar graphic without something to put in them so I went off in search of some candy psp tubes, but came up empty handed.

I made my own, in hershey kisses, gummy worms, and gummy bear flavors.

I filled the jars, slapped a lil lable on em and now you get to save them to your hard drive, up load them to your personal space and put them on your blog, or share them by including them as clip-art in your email to friends. How cool is that?


Got a suggestion for a filled jar? Use our [comment] link and let us know.

And of course, blinkies for new friends:



Thanks for your kind words and continued, enthusiastic support!

Posted at 03:42 pm
Permalink
Sunday, October 17, 2004
Fairy snow globe, "bliny addiction" blinkies and personalized blinkies for friends
Small, colorful update here.
Remember to save to photobucket.com.
DO NOT DIRECT LINK
For new friends:
Some addictions are good:







And my favorite: New Fairy in a crystal ball [on transparent background to match any blog]

We're usually really lax with asking people to credit, because 98% of those who use our graphics are really cordial and polite about it and credit without us asking [which I do notice and greatly appreciate, thanks guys!] If you use the fairy below, and you usually don't credit, please be kind and do so. This took me three hours to make. [wheew!]
*edit: made another for halloween...it's hard to tell but within her globe are skulls, a crow and a moon [upper left]. I know people have limited space on their blogs to display things like this, but I think I'm going to try to make future fairy globes a teensy-bit bigger so you can see the detail.

More fairy globes to come [and hopefully they won't take nearly so long].

Posted at 05:02 pm
Permalink
Streamlining for effective access
Lately, Mr. Flibble and I have been discussing the design and content of our blog. We wanted a change cosmeticly, but more important was figuring out how we can make our page load faster for our friends who don't have fancy high-speed connections.
We went through and re-formatted our old style and changed the color scheme just a bit.
We also got rid of much needless content on our side panel. While said content may have been fun to play with or look at, it was eatting too much download-time during our extensive browser testing on a 56 modem.
For those of you who play the BlogShares game, we're are currently listed, although we're trying to figure out just how to get our web-grabber id button back.

Any suggestions on making our blog more efficient and enjoyable are most welcome.

Oh, by the way, while going through some of our old things, Mr. Flibble found two dolls that were made a few months ago, and never shared.

These are dedicated to the Lord of the Rings & R.A. Salvatore fans:
Body & hair templates from
over-the-moon.org
. Clothing, skin mods by Push.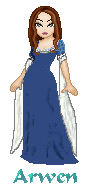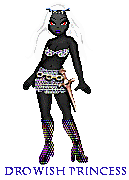 And some Fall Garland in various 'uncliched' seasonal colors:

Posted at 12:28 am
Permalink
Thursday, October 14, 2004
Blinkies for friends: some new fairies for the season
Haha, wow, I'm really od'ing on graphics lately.
School is html/css and adobe, which I like well enough. There is my multimedia instructional design class where I'm project manager/editor for the project our group is working on [I hate this class]. I'm kinda going into a pixilated coma over here.
Anywhoo, I finally got a complete update for those who requested blinkies. Thanks to
The Princess
for taking some of the heat off my back and making blinkies for some of our more impatiant friends, and thanks to all our friends who are a constant source of inspiration and support. Mr. Flibble and I think everyone deserves a big fat Sunday with lots and lots of gooey things on top!

Just a quick note from Mr. Flibble:
If you use any of our blinkies, icons or graphics, please do not alter them, then not give us credit. Doing so will result in being ip banned.

Upload to your personal image host, like photobucket.com

**do not direct-link


Blinkies for new friends:
Robot for Logtar

Some fairies for the season [credit if used, please]:

Fall Fairie

Halloween Fairie

Upload to your personal image host, like photobucket.com

**do not direct-link

Coming soon:
"Tiki Love" web sets for doners
More Autumn trinkets
More fairies
More backgrounds








Posted at 07:56 pm
Permalink