Fairies on Dragon & Unicorn
Hope everyone had a splendid Easter, for those who celebrate it. =)
Here's a small update with some of the latest fairy-related things Mr. Flibble and I have been working on.
[no direct-linking, please. See 'terms of use' to your left in the menu section']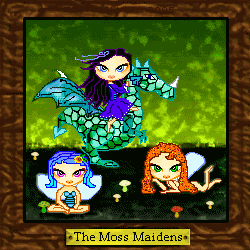 We hope everyone has a spelndid week. See you real soon!


Your friends,
Push & Mr. Flibble


Note from Mr. Flibble: If you make graphics, let us know by dropping a comment! We'd love to oggle what other pixel pushers are creating.

Posted at 10:31 pm
jennair


March 28, 2005 09:23 AM PST



I'll be using the unicorn one!!! Masterpiece as always!!!
deirdre


March 28, 2005 06:46 AM PST



Awesome!
Niqua


March 28, 2005 01:30 AM PST



Another set of beautiful fairies, Push! :)
I just started my very own line of pixel bugs!!! :) They're really nothing fantastic, but it's the first thing I've ever created that is 100% my own, and I'm kind of proud. *blushes*