Some new poses of our magical little friends.
[For personal use only. Please do not direct-link]
(the little dots under the flying fairie and around the fairie sitting cross-legged on the ground is pixie dust and is intended to be part of the picture)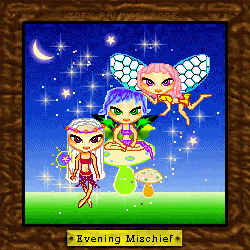 Posted at 02:54 pm
kensaymage.


July 8, 2005 08:22 AM PDT



sorry... but IMHO... the look evil-like... *shivers*
jennair


March 28, 2005 09:24 AM PST



These are great as well. I love the mushrooms!!!
deirdre


March 26, 2005 05:04 PM PST



I've been playing around a bit.
I borrowed some graphics and made a layout.

Thought I'd show you. :o)

http://deirdrestestblog.blogdrive.com/
Lily


March 25, 2005 04:50 PM PST



ooh. fairies.