Welcome fellow Pixelites!
This blog is dedicated to providing free graphics for the Blogdrive community. Yay!
I understand that by using these graphics, I am agreeing to Pushing Pixel's terms of use:
do *not* direct-link
do *not* alter graphics without consent
do *not* redistribute under any circumstance [such as email graphic sharing programs]
for personal use only
right-click graphic >>save to hard drive>> upload to your image host
[see photobucket.com free image hosting]
BREAKING ANY OF PART OF THE TERMS OF USE IS STRICTLY PROHIBITED AND WILL RESULT IN IP BANNING.





What is *'direct-linking' or 'hot-linking' and why it makes Mr. Flibble very cross

*courtesy of phenomenalwomen.com


Holiday reminder

mr. flibble ate the calander =\








---
Push's internet hotspot:

Link us!


We no longer accept personalized blinkie requests at this time. Thankyou for your interest.
If you have found this site
at all helpful to you, and you would like to return the favor in a monitary way, click below. Every little bit is greatly appreciated and goes a long way to keeping our subscription, and this blog alive!
About the artist:
[Blogdrive profile] "Push" is a struggling college student living in the south florida area. She is currently enrolled in Digital Multimedia Production program and looks forward to working in the Computer Animated Film industry after completing her degree. Hobbies include surfing the web, writing and of course, pushing pixels.



About the side-kick: "Mr. Flibble" is a pixilated penguin living in the imagination of a struggling college student living in south florida. He is Push's taskmaster who helps her manage her time and resources more efficiently. Mr. Flibble is derived from one of Push's favorit brit comedies, "Red Dwarf", specifically the episode 'Quarantine'.
---
most important advice to share:


Everyone has the capacity for evil.




This blog runs on Domo-kun power




micro managed by kodoma






and your humble host: Push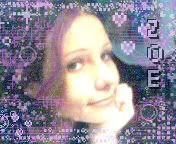 Thanks for stopping by.

Data: who links here?
Thursday, July 21, 2005
Ripped up, illshapped & raggity
Nothing is perfect.
Sometimes people forget that.
They want to control situations, people and things, because in their eyes, only they can make sure things go the way they think is best.
These little graphic dolls are a testiment to the imperfection in all of us.
Ripped up, illshapped & raggity.
[no direct-linking, please. See 'terms of use' to your left in the menu section']


Been very busy lately. Thankyou all for understanding and still stopping by. Your constant warm wishes and kindness are wonderful. Thankyou for the emails. Mr. Flibble says 'hi'.
Posted at 05:09 pm



Tuesday, May 03, 2005
Hello everybody. We've been busy wrapping up final exams here, thus our extended leave.
While we're not in to the whole complicated schpeal of creating new blogdrive layouts, we have been dabbling just a bit with them. Check out our latest experiment at our blog next door,
Flibble Bounce.

We're also putting together a blogdrive graphics news-based community board where everyone who makes or enjoys graphics can share knowledge on various techniqes, different programs & filters, as well as find news about the latest going on in the graphics industry. We're not sure how much this forum is needed or desired, but how will you learn unless you find out for yoruself?


If you're interested in becoming a contributor, let us know.

One new thing, an autism awareness ribbon. Lots of rehash from the past, some by request.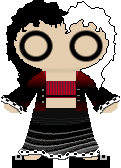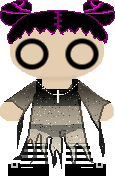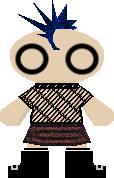 Mr. Flibble and I will be off again for a bit. See you again soon!

Your friends,
Push & Mr. Flibble





Posted at 09:09 am



Thursday, March 31, 2005
April is Child Abuse Awareness Month
Miss
RaeJane
has brought it to my attention that April is Chid Abuse Awareness Month.
This is for you, RJ, and for everyone else out there who would like to show their support for this very worthy cause. I made several styles. Please show your support in the real world by finding out how you can help children
in your community
in America, and across the globe.








What Every Parent Should Know
Please, Mom and Dad . . .
My hands are small.
I donít mean to spill my milk.
My legs are short.
Please slow down so I can keep up with you .
Donít slap my hands when I touch something bright and pretty. I donít understand.
Please look at me when I talk to you. It lets me know you are really listening.
My feelings are tender
Donít nag me all day. Let me make mistakes without feeling stupid.
Donít expect the bed I make or the picture I draw to be perfect.
Just love me for trying.
Remember I am a child, not a small adult.
Sometimes I donít understand what you are saying.
I love you so much. Please love me just for being me - not just for the things I can do.

-anon
Posted at 08:51 pm



Tuesday, March 29, 2005
Quick update as Mr. Flibble & I have to go prepare to battle the rampant Algebraic Beast, lead by the forces of the intimidating Professor Dada. He weilds powerful spells called trinomials, sometimes followed by radicals. Yikes!

[no direct-linking, please. See 'terms of use' to your left in the menu section']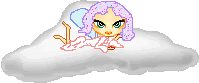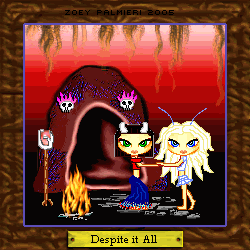 Posted at 04:49 pm